Use these five points as a guide to deciding whether home ownership is right for your retirement plans
The last of your children has just gone off to college and that four-bedroom dream home is starting to feel like a spooky deserted castle. It's about this time that many people start thinking about downsizing to a smaller home or whether they want to own one at all in retirement.
Trying to make the decision, you'll mostly find articles measuring the economic value of ownership but a home is much more than just an investment. Deciding whether to stay in your home through retirement, downsize but still own or to become a renter involves personal choices.
Use the five key questions to retirement home ownership to get you started in your decision.
Five Key Points to Decide Your Retirement Home Ownership Answer
1) Costs of home ownership in retirement. If you've owned your home for long enough, you know of all the little costs like utilities, taxes and maintenance that add up. You may find these costs adding up even more in retirement. You'll be home more which will mean higher utility bills. You also might have to hire more of the maintenance out to someone else.
2) Investment returns on home ownership versus the alternatives. Holding that $100,000 in home equity could be foregoing thousands of dollars a year you could be making on stocks or bonds. The value of your home is likely only increasing by about the rate of inflation each year while taxes and maintenance costs eat into any return you're making off the investment.
While one legendary investor is predicting sub-par returns of just 6% on stocks and 3% on bonds over the next decade, other investments hold the potential to earn much more on your money. The price of gold is already up more than 10% since our February article explaining why gold should be in your IRA in 2016 but it could be just the beginning of a long run higher.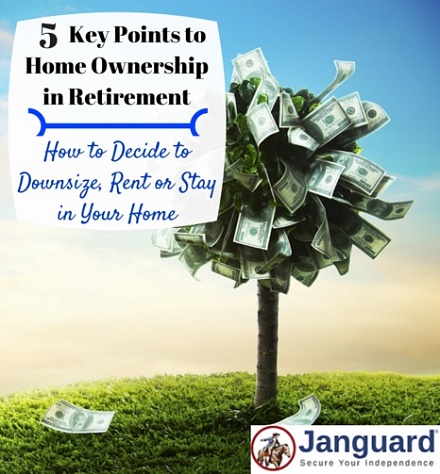 3) You cannot draw-down the value of your home as you could other investments. With many retirees living on little more than social security, the ability to withdraw some of your investments for living expenses is a necessity. This isn't possible with home ownership where your value builds up in equity but you can't unlock it until you sell. Many retirees have turned to a reverse mortgage to cash out some of their home's equity but these have hidden risks as well.
4) Traveling may be easier for renters. If you are planning on traveling extensively in retirement, do you even need a home base for much of the year? Paying someone to watch your home, turning off the utilities in the winter and keeping things secure can add to your expenses. Even if you rent a home or apartment while you are not in town, the owner will usually help keep the place secure.
5) Finally, there's the security issue with owning a home in retirement. Apartment or community living means there's always someone around to help out or check in on you. For retirees whose children have moved out of town, the security of knowing someone is less than 50-feet away is very comforting.
The one question we can't measure and one that only you can answer is how your home makes you feel. For many, the emotional attachment to a house far outweighs anything else. Sit down and think about these five points in the retirement home ownership decision. You don't have to make the decision immediately. Come back to it after a few days to see if any of your answers have changed and if owning a home in retirement is right for your plans.