New IRA transfer program offers big opportunity and a cash bonus to retirement investors
In response to recent reports that the lion's share of U.S. retirement account providers are dropping accounts owned by U.S. expatriates or refusing to open new IRA retirement accounts for U.S. citizens who live abroad, Janguard, Inc. has announced that it will provide a $100 rebate to each investor who transfer an IRA with Janguard's assistance and makes a qualifying investment.
The $100 rebate will be in the form of first-year IRA account fees at either Equity Institutional, GoldStar Trust or SDIRA Services retirement account custodians. These three custodians are known for offering many types of investments of both the traditional and alternative variety, and all three are willing to work with U.S. citizens located abroad.
In recent months, a slew of IRA custodians in the United States have started to enforce policies that either boot current account owners who live in foreign countries or prohibits the opening of new retirement accounts for investors who are U.S. expatriates. Retirement account custodians who have implemented anti-expat policies include:
Vanguard
Scottrade
Fidelity
D. Ameritrade
Morgan Stanley
Merrill Lynch
Representatives for some of the aforementioned custodians claim that the policy change has to do with "Know Your Customer" laws designed to prevent money laundering and other criminal activity. "These individuals may not have verifiable U.S. addresses and we simply cannot support clients if we don't know who or where they are," said a spokesperson for one large IRA custodian.
Advisor Misconduct and Client Maltreatment Spur IRA Transfer Wave
Critics have said that retirement account companies' new policies have less to do with anti-money laundering laws and more with company profits. "There are two money-related reasons to these anti-expat regulations," said Janguard spokesman John Bidwell. "First, expats typically make less trades than investors who live in the United States. This could be for any number of reasons, including the fact that many U.S. expats are retired and want to enjoy their golden years rather than focus on stock prices and interest rates."
Bidwell's second point has to do with the fact that some custodians are only banning expats or closing expat IRAs if the client's balance is above a certain threshold, usually in the $500,000 range. "If this was truly about national security and fighting crime then why would there be a $500,000 minimum," Bidwell asked. "Could it be because $500,000 sitting in a money market account earns a lot more interest for the custodian than an account with $50,000?"
Even if your IRA custodian is not forcing you to transfer your retirement account, it may be beneficial to do so. How much are you paying in account fees each year? What sort of IRA investment options are available to you? How has your account performed recently? Do you feel supported by brokers and other employees of the company that currently manages your IRA?
These are good questions to ask yourself when considering an IRA transfer whether you are an expat retiree or otherwise.
The IRS recently imposed a once-per-year rule for IRA rollovers, but direct IRA transfers can be executed at any time. Why have so many investors transferred, rolled over or converted their IRAs in recent years?
There are currently over $20 trillion saved in U.S. retirement accounts. That sounds like a lot, but according to some estimates more than $16 trillion evaporated from those accounts between 2007 and 2012. Investors have been scrambling to make up for losses as they get closer to retirement, but winners have been hard to come by as of late.
We highlighted last week the widespread misconduct within the financial advisor industry with one-in-five advisors at one popular firm being disciplined by regulators for breaking advisory rules. Not only are large brokerage firms booting clients but many clients are transferring their IRA assets and putting the boot to their brokerage.
IRA Investments and Transferring Your Assets for Better Control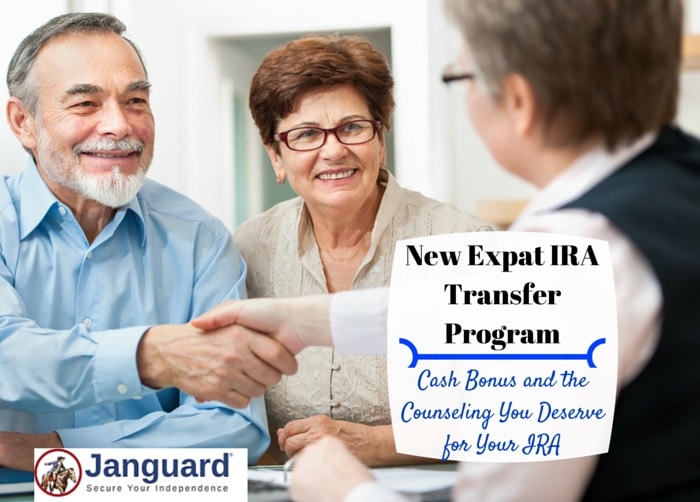 Interest-bearing accounts like CDs and money markets are paying 0.5%-2% interest, meaning that investors can't even keep up with the rate of inflation. Bonds aren't faring much better, and once the Federal Reserve raises interest rates existing bonds will be devalued further. Many stocks and mutual funds have rebounded since the recession, but stock market analysts believe those gains could be negated once the U.S. government raises interest rates, thus ending the era of interest-free borrowing by corporations and beginning a decade of low investment returns.
Janguard's strategy is simple and conservative: we believe that America and its citizens are under direct attack by the Federal Reserve and the current administration because both have campaigned for and implemented policies that hurt the dollar and hurt our retirement accounts. Janguard believes that rising interest rates could cause one of the largest evaporations of wealth in the history of the world, and we have devised strategies that could help you save and make money in a highly inflationary environment.
If you'd like more information on transferring your IRA or other retirement account to Equity Institutional, GoldStar Trust or SDIRA Services, or if you just have questions about retirement account investing in general, call Janguard at (800) 300-0715 and discover how easy it is to secure your independence from a rising national debt and inflation, and don't forget to claim your free copy of our new special report on profiting from rising interest rates in 2015 now.