These ideas from my favorite IRA investments should help you diversify and balance your retirement planning
We've kept the blog fairly general when it comes to specific investment choices for your IRA or 401K accounts. Investing is a personal process and depends heavily on your own need for return and risk tolerance. Instead of offering the same tired stock picks you get from every other retirement website, we've generally kept to recommending asset classes and letting our trained IRA investment specialists help you with specific recommendations.
This week, I thought I would throw back the curtain on my own IRA retirement portfolio and some of my favorite IRA investments. While it's still not a recommendation for any particular stock, I thought I would share the factors that make for strong retirement investments.
3 of My Favorite IRA Investments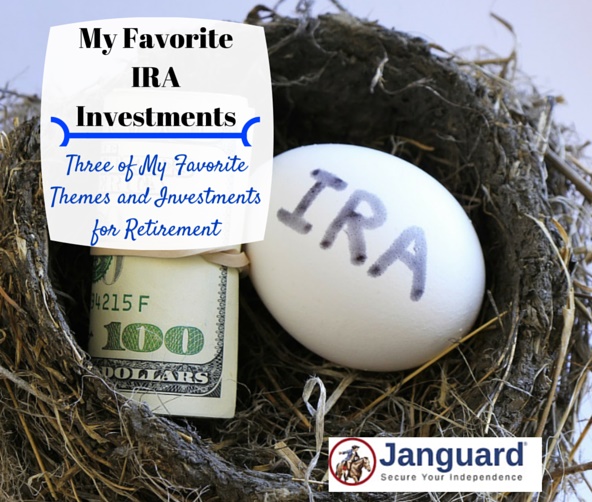 First, any investment that will cost you more in taxes should go in your IRA or other tax-deferred retirement accounts. Most mutual funds would top this list because selling by the fund manager creates a taxable event, whether you sell the fund or not. Holding mutual funds in your retirement account protects you from these annual taxes.
Any dividend-paying stock should also go on your short-list of favorite IRA investments, starting with those paying the highest yields. I hold most of my investment in real estate investment trusts (REITs) in my IRA because the investments pay out a high percentage of cash flow. Bonds should also go in your REIT since most of the return is on your regular coupon payments.
The Vanguard REIT ETF (NYSE: VNQ) has provided a 72% return over the last five years but nearly half of the return has been from dividends. If the fund wasn't in my IRA portfolio, the yearly tax-bite would have reduced my return significantly.
There are a few investments that I have that are great long-term plays but that could be very volatile over the next year or two. We addressed the question of whether energy stocks can still be good retirement investments in a previous article. I love the long-term upside on energy but these stocks could be a roller coaster over the next couple of years.
Locking up these volatile long-term plays in your IRA investments makes it less likely that you'll freak out and panic-sell when prices fall. Sure, you can still buy and sell within your retirement accounts but you're less likely to trade in and out of stocks when the money is locked up for a few decades anyway.
I also hold a proportion of my IRA investments in gold and other precious metals. These may not spin off cash that needs protected from taxes but they're the ultimate safety investments. Stocks could crumble in the next financial crisis and bond prices will come under pressure as the Federal Reserve raises rates but gold and silver will always keep their value and then some.
Not only will gold protect your IRA portfolio from inflation and financial risks, there are some very strong fundamentals behind gold prices. We covered five fundamental reasons in February that will push gold prices higher in 2016 from surging investor demand to falling supply. The price of gold is already 11% higher and has jumped 19% since late last year.
Your IRA portfolio should be a diversified and balanced mix of asset classes and investments to reduce your risk and help meet your financial goals. I wouldn't generally recommend you put more than 15% of your assets in any single investment but I like the three themes above for my favorite IRA investments. Beyond my overall asset diversification, I hold a little extra in these three retirement investments for protection from taxes and financial crises.